President: Pamela Rudge, GRSM(Hons), ARCM
Registered Charity No: 1039773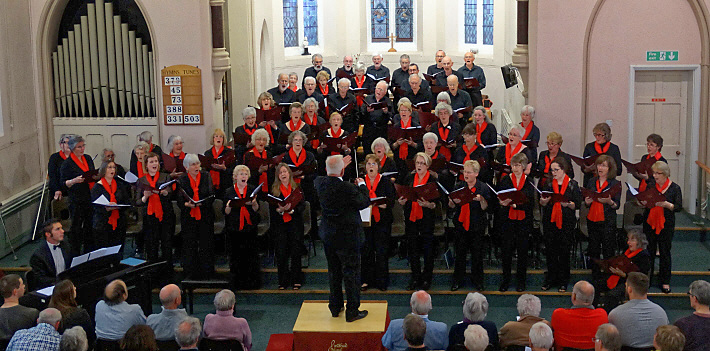 Portishead Choral Society is a friendly, medium-sized, choral society with close links to the local community. Currently we have about eighty members, drawn mainly, but not exclusively, from Portishead. We are dedicated to singing and providing performances of mostly classical music in four voice parts (soprano, alto, tenor and bass).
Rehearsals restarted on 9th September. Please note our new venue is Portishead Methodist Church, and the start time is 7.45pm.
We are working towards a concert entitled "GLORIA! A CELEBRATION OF SINGING TOGETHER AGAIN", which will include four contrasting settings of "Gloria". Due to the COVID-19 situation and other illnesses that become prevalent in winter, the concert planned for Thursday 16 December 2021 has been changed to a "closed performance" for a small number of invited friends and family only. This means that we are not selling tickets to the general public to avoid the issues that would arise if we have to cancel the concert. The choir is still rehearsing with great enthusiasm and are looking forward to a very festive performance on 16th December where, instead of selling tickets, we will be encouraging those who are invited to be our audience to contribute to a charity (TBD).
For more details please contact Alex Cottrell at chairman@portisheadchoral.co.uk.
---
Privacy policy
This website does not collect or store any personal information.
The only use of cookies on this website is to record a member's login when they enter a password on the Members' Page. No other cookies are used by the website.
© Portishead Choral Society 2010 – 2022