President: Pamela Rudge, GRSM(Hons), ARCM
Registered Charity No: 1039773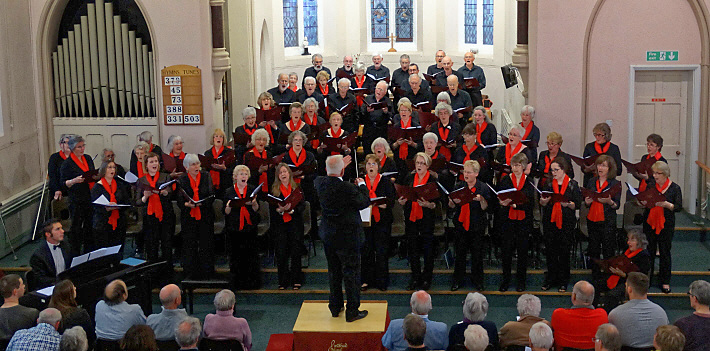 Portishead Choral Society is a friendly, medium-sized, choral society with close links to the local community. Currently we have about eighty members, drawn mainly, but not exclusively, from Portishead. We are dedicated to singing and providing performances of mostly classical music in four voice parts (soprano, alto, tenor and bass).
We are delighted to be singing together again after the break enforced by the COVID pandemic. We are rehearsing at Portishead Methodist Church, on Thursday evenings, starting at 7.30pm. We are looking forward to welcoming back more members following the COVID pandemic, and we are always delighted to welcome new members – please see the Join us page if you are considering becoming a member.
Sing with us!
Maybe you have been thinking of joining a choir? Now is a good time to plan ahead for September. Like many other choirs, our membership was affected by the pandemic. Our numbers were quite high (nearly 80), and we are now aiming to get back to where we were. There are vacancies in all sections (especially tenors and basses), and there are no auditions. Our concert plans for the 2022-23 season are:
17 December 2022: St Nicolas, Benjamin Britten, and carols
25 March 2023: The Creation, Haydn
10 June 2023: Porgy and Bess (Concert version), Gershwin
Please see this post for more information on our plans for 2022-23.
---
Privacy policy
This website does not collect or store any personal information.
The only use of cookies on this website is to record a member's login when they enter a password on the Members' Page. No other cookies are used by the website.
Portishead Choral Society is grateful for the sponsorship and hosting of this website by 34sp.com. This website is constructed using https://www.34sp.com/wordpress-hosting
© Portishead Choral Society 2010 – 2022